BUILDING PLANNING SERVICE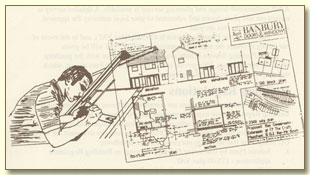 A full, professional design and planning service is available. A detailed survey is carried out and plans drawn and submitted to your local authority for approval. All local authority fees are paid at a cost of £350.00 + VAT.
BUILDING REGULATIONS
Planning and building regulations are completely different departments and, if building regulations are required, separate plans will have to be submitted. Fees are payable for submitting the plans and inspection fees will be charged when the Building Control Officer visits your site to inspect the work. Our charges to our customers are as follows:
Submission of plans by converting planning drawings to Building Regulations application - £100.00 + VAT
If planning is not required but Building Regulations are the charge is - £295 + VAT (Full Plans).
Building Notices depending on Project Value £128.00 - £263.00 + VAT (Full Plans).
PLUS ALL SUBMISSION AND INSPECTION FEES, WHICH WILL BE INVOICED SEPARATELY TO THE MAIN CONTRACT, AS PAID ON YOUR BEHALF. THESE COSTS VARY DEPENDING UPON THE SIZE OF THE PROJECT.
SITEWORKS
A professional siteworks service is also available. A comprehensive site survey is undertaken to check site conditions i.e. drain positions, sloping ground which requires stepped foundations etc.
Our experienced company builders will complete all siteworks from excavating foundations, laying drains, plumbing and electrical work, to the laying of the final floor screed and leaving the site clean and tidy.
All work carried out by Banbury is covered by the comprehensive Banbury guarantee.